Desserts with Mango: Hot Summer Tropical Flavours!
2021-07-23 ◆ 4
minutes read
Something that's almost guaranteed to be tasty are desserts with mango, a fruit that adds a tropical twist to any dessert it finds itself in! Today, we bring you fresh facts about mango, such as its health benefits and traditional uses of the fruit in desserts. Best part, we also prepared a selection of some delicious mango desserts you can find near you. Are you ready for a dose of sunshine?
Desserts with Mango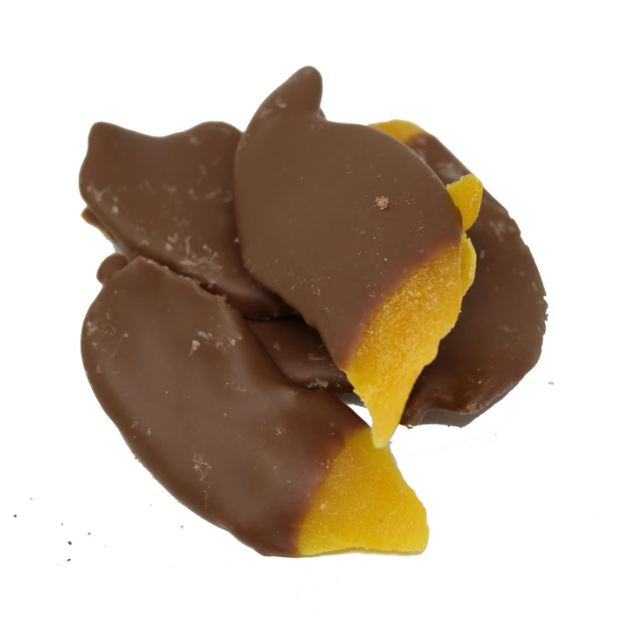 Mango Dipped in Chocolate 
For some, this might be an unexpected combination… but chocolate and mango are actually a match made in heaven. The sweetness and slightly bitter taste of the chocolate complements the sweet and slightly sour taste of the mango, particularly when the fruit is dried. The result: a dessert that is both melty and chewy, like the treat pictured above! Especially if the dipping is made of quality gluten-free chocolate, this treat can be as healthy as it is tasty.
More traditional chocolate-covered sweets include apples and strawberries. If you thought mango was an exotic one, wait until you find out about some unusual chocolate-covered desserts like chocolate-covered bacon or insects! Today though, you might just want to stick to a sweet snack of dried mango dipped in chocolate!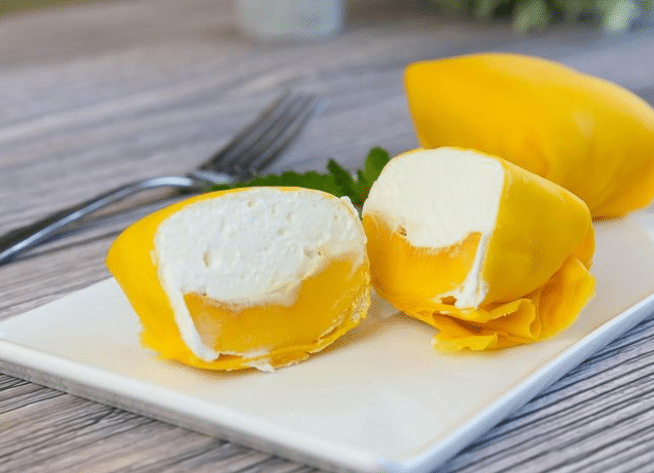 2. Mango Pancake
In the tradition of Hong-Kong desserts, you may remember our posts on taiyaki and bubble waffles…  mango pancakes are another dessert that might leave its mark on you! Rather than being shaped like the traditional American pancakes you may know, these pancakes are dumpling-like. Consisting of whipped cream and fresh mango pieces, this treat is wrapped in a thin crepe. If you're looking for a light treat that's not too sweet, this is your perfect pick!
Sweet dim sum is actually a very popular tradition in China and Hong Kong. You may have heard of some well-known ones, such as Chinese custard buns or yam taro buns. Sweet dim sum often contains eggs, like these mango pancakes. Are you vegan and still want to try this dessert? You'll be happy to know that there are even vegan Hong Kong mango pancakes with a coconut cream base. A true burst of tropical flavors!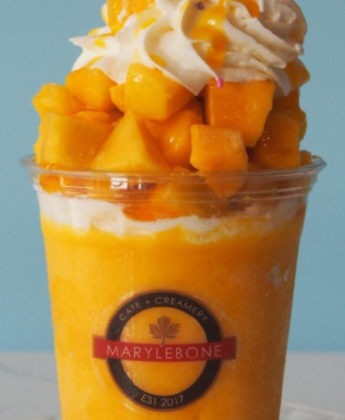 3. Mango Sundae
A healthy sundae? Yes, you read that right! Mango sundaes are a nutritious way to indulge in a sweet frozen treat. Made with a fresh mango puree base and sometimes mixed with an ice cream of choice, these frozen treats contain less dairy than regular sundaes. Particularly when there is coconut in the mix, mango sundaes balance out tropical and milky flavours deliciously. Topped with some fresh chopped mangoes and whipped cream, this delight is a perfect slightly tart and refreshing treat!
Although the traditional sundae is an American creation, tropical twists on the dessert make it seem like it was always a warm weather dessert. Particularly sundaes such as mango-flavored ones, which usually contain less processed ingredients and instead prioritize fresh or frozen fruit toppings.  However, a little caramel drizzle or some cookie crumbs never hurt anyone (that we know of)!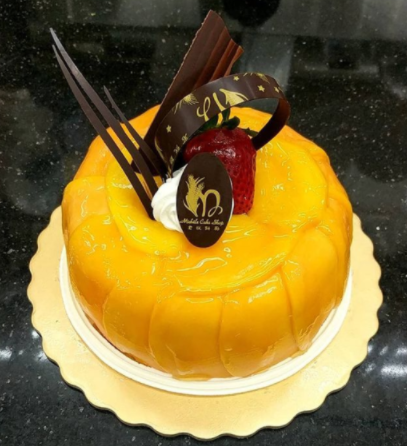 4. Mango Cake 
What would be our selection of mango desserts without a mango cake? The one pictured above features a chiffon cake base, fresh mango chunks, and whipping cream for stuffing. Cherry on top (or strawberry in this case): the cake bears fresh sliced seasonal mangoes as its top layer. Especially when fresh and ripe, the fruit adds an extra dimension of flavour to sugary sweets such as cakes or pastries. 
With low calories and nearly 70% of the recommended daily amount of vitamin C, the fresh mangoes in this cake provide both flavour and nutrients. What's more, mangoes contain heaps of polyphenols, which are plant compounds our body uses as antioxidants. Nutritious and delicious, this fresh mango cake makes it clear why these two words rhyme!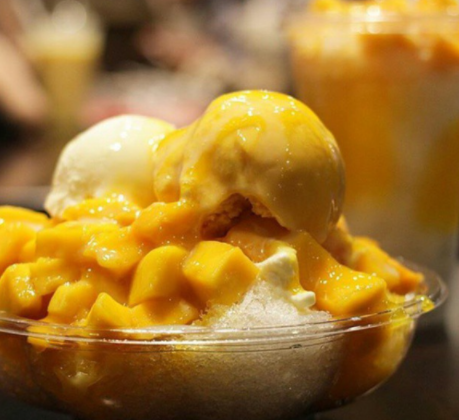 5. Mango Shaved Ice
What feels better than a frozen treat on a hot, middle-of-the-summer day? Some would say a pool or beach day… but we say a mango shaved ice is the next best thing! The shaved ice above features simple ingredients: ice and fresh or frozen mangoes, topped with ice cream scoops for extra sweetness. To shave the ice, merchants use a machine called an ice shaver, which turns ice chunks into shaved bits, or a blender for a more slush-like consistency. Sometimes, particularly when it follows a Taiwanese recipe, shaved ice also features sweet potato dumplings, tapioca pearls and some sugar syrup or condensed milk.

Speaking of shaved ice… did you know it is in fact an ancient Japanese dessert? Yes, the first dessert enthusiast to enjoy a shaved ice apparently did so 1000 years ago, during Japan's Heian period. Back then, people knew it as "kakigōri," and it consisted of shaved ice combined with a sweet syrup. Interestingly, back then it was counted as a more exclusive dessert. That's right, the treat was available exclusively for members of high society. Talk about a royal dessert!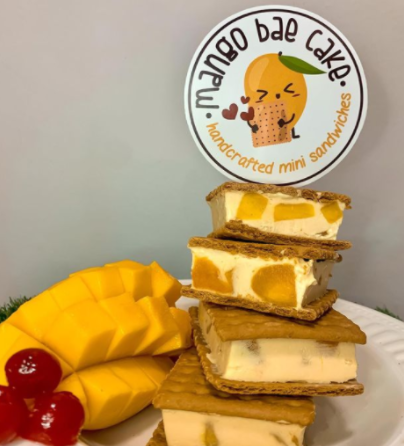 6. Mango Ice Cream Sandwich
Ice cream sandwiches come in all sorts of flavors, from red bean to chocolate raspberry. Have you tried mango yet? This simple ice cream sandwich from a Winnipeg dessert shop features a cream and mango filling, sandwiched between honey graham crackers. Mango and honey go deliciously together, as honey softens the slightly sour taste of the mango.

Mango and graham crackers is an iconic pairing as well. Think of mango float, a Filipino dessert that features a cream, sweetened condensed milk, vanilla, and mango mixture layered with graham cracker crumbs. Or even mango royale, a no bake cake that consists of ripe pureed mangoes, cream, and a final layer of graham cookie crumbs. In a way, this mango ice cream sandwich offers you a different spin – an on-the-go iteration of both these desserts!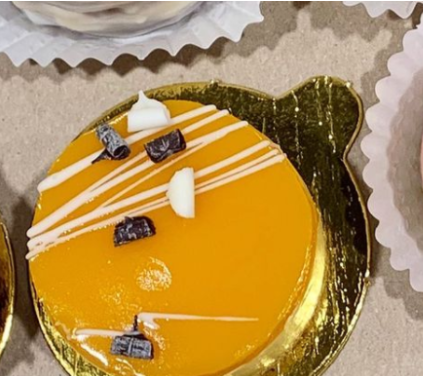 7. Mango Mousse
This mango mousse mini cake consists of a natural mango puree, cream, and some sugar on a vanilla crumb base. The final layer of the cake is a thin coat of mango jam and some white chocolate. Because their textures and tastes contrast so strikingly, mousse and fruit puree are a great combination for your taste buds. Particularly when the mousse base has vanilla flavours, it really gives an opportunity for the fruit flavors to shine – like in this mango mousse cake.
Although this dessert may resemble a flan, with an almost similar airy texture, flans are generally denser than mousses. This is due to custard being cooked with hot milk and whole eggs. Conversely, mousse usually contains only egg whites, cream, sugar, and sometimes milk.
This wraps up our selection of desserts with mango for you to enjoy the mid-summer sunshine with freshness, sweetness and brightness! Hopefully, you learned a few things about mango and the possibilities that its distinctive yet versatile taste offers for desserts. How about a mango sundae or some mango pancakes? Head here for mango desserts near you!