A Slew of Ice Cream Sandwiches
2020-11-03 ◆ 2
minutes read
At the mention of ice cream sandwiches, we generally think about cookies or wafers. But today, we want to encourage you to think a little more literally. We want you to consider frozen sandwiches made, like their savoury counterparts, using fresh bread! Let's look at some sandwich history before we travel abroad and glance at what ice cream types are available around the world.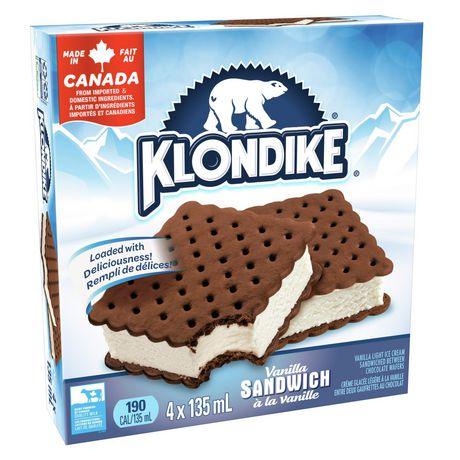 The western world is familiar with sweet sandwich walls made from chocolate chip cookies or chocolate flavoured cookie wafers. According to Jeri Quinzio, the author behind Of Sugar and Snow: A History of Ice Cream Making, the famous sandwiches were first sold as hokey pokeys in New York City as far back as 1899. These hokey pokeys were essentially ordinary blocks of ice cream. In other words, "messy and not very convenient, so somebody came up with the idea of using crackers or cookies". Eventually the more elite members of society had cottoned on to the idea. But if you can believe it, they were using knives and forks to eat the sandwiches in restaurants!

Yam-flavoured Sandwich Ice Cream
Some Asian Ice Cream Sandwiches
This is a far cry from the form it takes as street food in bustling places like Singapore. Here there are no plates and no cutlery. It's just you and your bare hands, racing the clock as the tropical midday heat melts your ice cream. Here it's referred to as potong, and pia ice cream, which translates to "biscuit ice cream." It's basically a block of ice cream that's served on a square slice of sweet white bread. Some ice cream flavours that are especially popular in Asia include red bean, yam, sweet corn, and even durian fruit. If you're less adventurous, though, you can always opt for more traditional flavours like chocolate or raspberry.
Immerse yourself in another culture! Wrap your ice cream in a sweet coloured slice of bread, like the locals do. These bright colours come from various food colourings, matcha, and pandan leaf extract.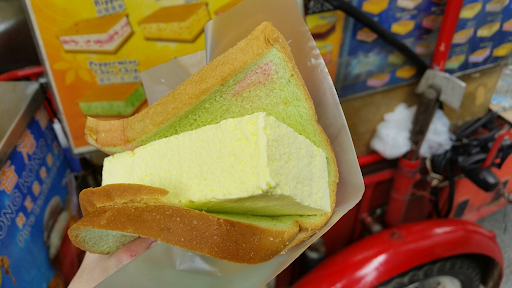 A two hour flight north to Vietnam and you'll find yourself in the world of the bánh mì kẹp kem which is similar to the Singaporean ice cream sandwiches. While it's also popular on street corners, instead of sliced bread, you'll find something resembling an ice cream hotdog. Composed generally of coconut milk based ice cream, you'll find crushed peanuts on top of scoops. This is very similar to Thailand's khanom pang ai tiim, which takes things up a notch by including other ingredients like condensed milk, chocolate syrup, sliced jackfruit, sticky rice, and coconut cream.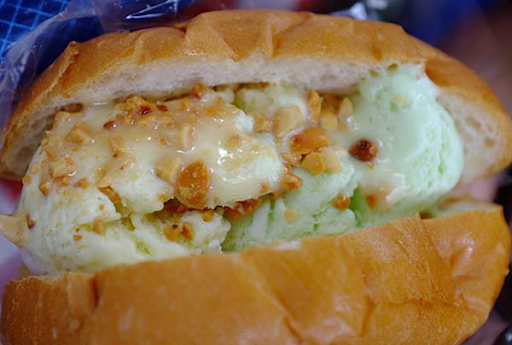 Italian Variations 
For another type of sundae in a bun, we leave Southeast Asia and head to Sicily.Here it's not uncommon to actually start your day with a gelato sandwich! The Sicilians refer to it as brioche con gelato, and traditional flavours include hazelnut, pistachio, and stracciatella. This last is an Italian vanilla with chocolate chips. Smooth gelato with a delicate and buttery brioche roll seems like the best antidote to that dreaded early morning alarm we often have to wake up to!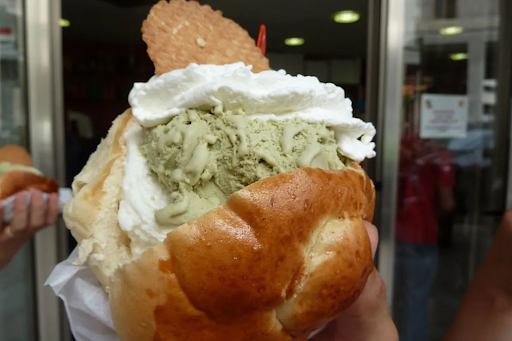 That's it for frozen sandwiches. If you're interested in reading more about the banana split and headache, or whether eating a few ice cream scoops will make you better at sports, be our guest. Perhaps you might want to try one of the above-covered ice cream sandwiches at home!