Open Your Heart for Egg Tarts!
2022-04-01 ◆ 3
minutes read
Egg tarts are egg-splosively delicious! They're great to charm your guests, or jazz up your daily afternoon snack. An incredibly popular dessert in countries like Portugal and China, these tarts conjure a childlike excitement and appreciation. Join Dessert Advisor as we take a look at the history of this iconic dessert and how it evolved throughout the years.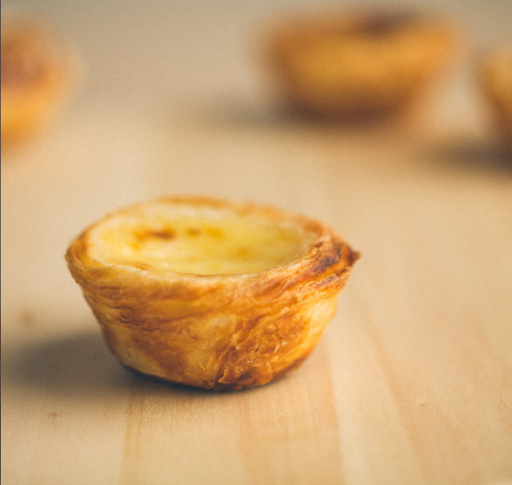 Origins of Egg Tarts
In Portugal, they are referred to as "Pastéis de nata". The story goes that their origins began at the Jerónimos Monastery in Lisbon (15th century), where nuns used egg whites to starch their clothing. With no desire to waste food, the monks wanted to make use of the remaining egg yolks. As a result, they created egg tarts! They were so popular, Fábrica de Pastéis de Belém (a sugar refinery) bought the monks' recipe in 1834. The descendents of the original Fábrica de Pastéis de Belém still serve the original Portuguese tart today!
The popularity of these custard tarts did not stop there. When Portugal settled in Southern China in the 16th century, the tarts began their international expansion.It wasn't until the 1940's that they became a household name when they were served at port markets to mimic English custard tarts during WWII. With both British and Portuguese influence, the Chinese egg tart "daan tat" was born. These tarts hold a significant part of Chinese childhood and remain a classic dessert to enjoy.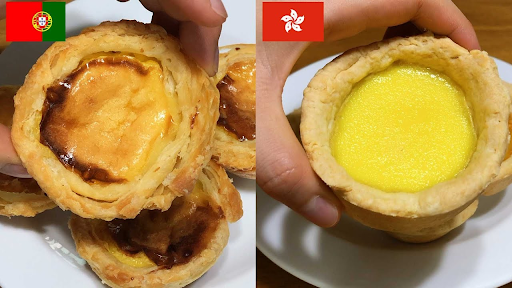 Egg Tarts or Flan?
Sometimes, the names "egg tart" and "flan" are used loosely, and interchangeably. We're here to debunk this debate. 
The key difference comes down to the preparation process and their look. Egg tarts contain egg custard and are placed on a piece of pastry (puff, shortcrust…). Visually, they look like mini pies. They are a quick dessert to enjoy after a meal. While flan is also an egg custard, it usually has a caramel topping (soft or hard) made from melted sugar. Flan can either be soft and creamy, or dense like a cake, but there is very little (if any) crust to be found. Another relative to this family of desserts is the crème brûlée. A crème brûlée is a baked custard prepared with cream, sugar and egg yolks. Similar to flan, it is topped with torched caramelized sugar, creating a hard caramel layer, but again no crust.
Difference between Pastéis de nata and Daan tat
Even though "daan tat" originated from "pastéis de nata", both tarts are distinguished through their taste and looks. 
Portuguese Pastéis de nata:

The egg custard is sweet containing less egg flavours. The sweetness is heightened by adding caramelized cinnamon as a topping. To create the pie crust, the Portuguese recipe uses a puff pastry. It melts instantly in your mouth! Pastéis de nata tastes just like sweet caramel with a crispy touch, so delicious! They're so well-loved that you can find natas across the world in your local Portuguese community bakeries or "padarias", like every avó (grandmother) would say.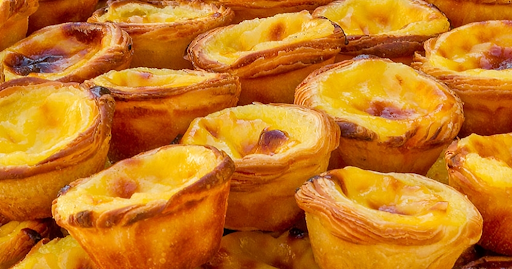 Chinese Daan tat:

The Chinese egg tart is made with evaporated milk, sugar and eggs. They do not add caramelized sugar on the top layer, creating an almost glassy look. They use both puff pastry and a shortcrust casing (i.e., a small tartlet shell) as their pie crust, it depends on the preference and at which part of the country you find yourself in. Compared to pastéis de nata, daan tat has more of an egg yolk taste.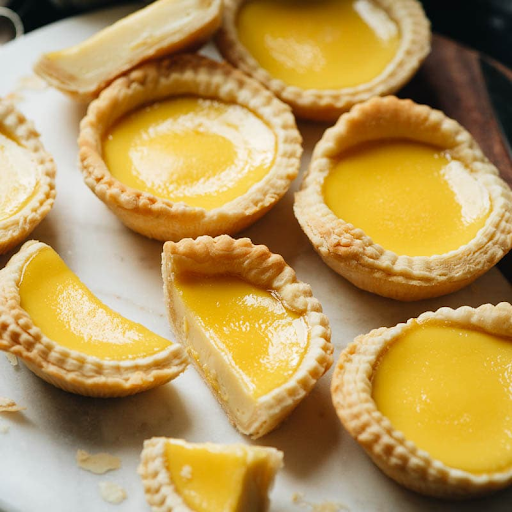 Tarts Around the World
Throughout the years, many cultures adapted the egg tart to fit their preferences and made it their own. Let's discover the different types.
English Custard Tart:

The English custard tart is simply irresistible. Traditionally, these tarts are made without eggs. Instead, the creaminess is created by using custard powder. To add more flavour, nutmeg is added to top it off. The English tart uses a buttery and dense pie crust. What a perfect combination!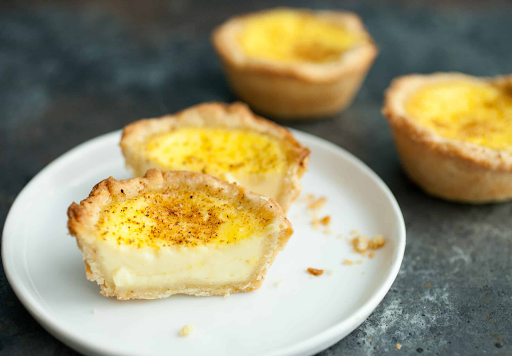 Hong Kong Coconut tarts:

With its growing popularity, pastry chefs are constantly looking to innovate amongst all of the competition. The Hongkong coconut tarts are basically reminiscent of daan tat, but they use a coconut custard filling topped with a cherry. If you're into more fruity flavours, this coconut tart is perfect for you!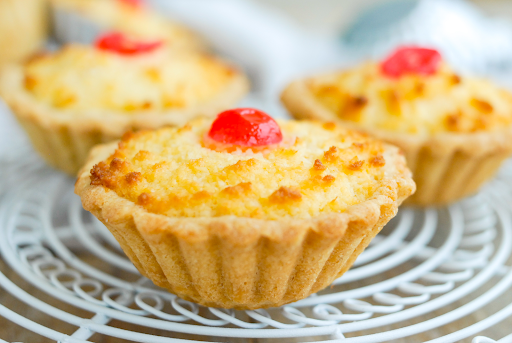 Macau-style Egg Tart:

The Macau egg tart is closely similar to pastéis de nata. Their own unique twist combines both the English custard and the Portuguese puff pastry pie crust. It is the best of both worlds!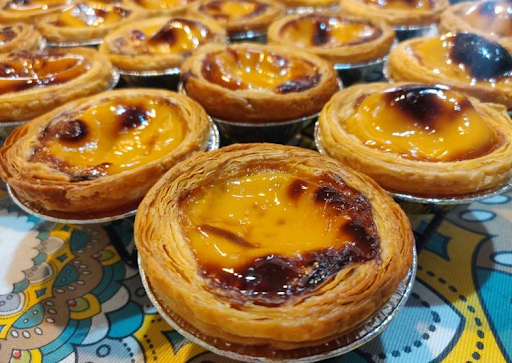 Japanese Cheese Egg Tart:

The cheese egg tart originated in Japan back in 2013.  Hokkaido's dairy products were well-loved, and it was only a matter of time that its popularity grew across Asia. With a combination of cheese and egg, what's not to like? If you're a cheese cake and an egg tart lover, this will blow your taste buds away!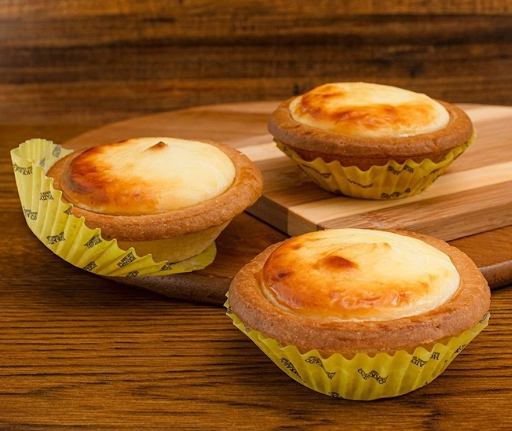 Filipino Egg Tart:

The Filipino egg tart is similar to the daan tat. The egg custard is creamy, and the tart crust is buttery and sweet. Based on preference, the custard is charred for aesthetics. It is a staple dessert at every Filipino party! You can also find other alternative flavours such as

ube

(i.e., purple yam), being a popular ingredient in the Philippines.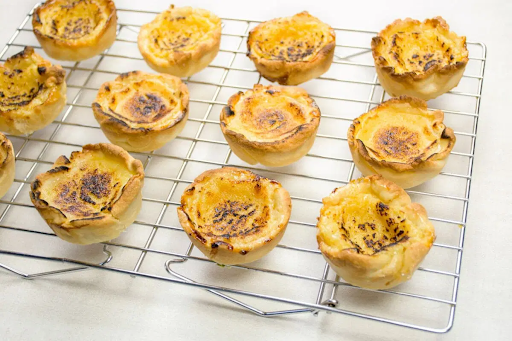 Alternative Flavour Variations
The world of tarts is constantly evolving. New flavours come out, attracting more foodies to enjoy this dessert. Flavours such as matcha, ube, chocolate, pandan (i.e., tropical plant with sweet and floral fragrances), milk tea, ginger, and so much more are found at specialty stores. Pastry chefs are constantly creating the next hit, so don't be surprised if you come across other types of custard tarts. The more the merrier!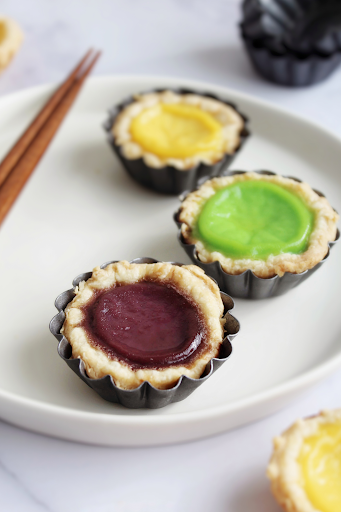 With its origins from Portugal, this scrumptious dessert has evolved throughout the years as a staple dessert to many cultures. If you're craving for egg tarts, make sure to look for this sweet snack near you!