Filo Pastry: Irresistible, Thin and Crispy
2021-10-01 ◆ 3
minutes read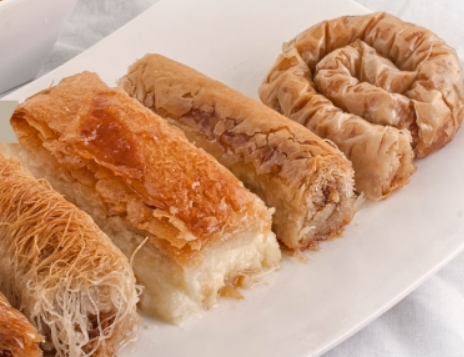 Are you familiar with filo pastry or phyllo? Even if the name doesn't ring a bell, we are confident that you've probably come across it many times. Think of baklavas, spanakopitas or boreks, for example. They are made of a very thin and flaky dough, made from a mixture of flour, salt, water, and oil, resulting in a distinct flavour and texture. 
How is Filo Pastry Made? 
The ingredients are combined, kneaded and then stretched until the mixture is transparent enough to almost see through. These paper-thin sheets are then placed on top of each other, glued together with melted butter or oil, to form a multi-layered pastry shell. Afterwards, these shells can be filled, rolled and layered into many different kinds of desserts. Here is  a video of an 86 year-old Greek baker doing it the traditional way.
Phyllo Pastry vs. Puff Pastry
You might be asking yourself what the difference is between filo and puff pastries, and are these terms interchangeable. Some recipes specify that you can substitute one for the other, but the result will not be the same. Filo is much more thin, crumbly and light, while puff pastry is more dense. This is why if you're looking for the real flaky, crispy goodness, you've come to the right place. Let Dessert Advisor take you through all there is to know about filo pastry.
The History of Filo
Filo means "leaf" in Greek – and its use in many Greek foods may give the impression that this pastry originated in Greece. In reality, its origins are highly debated, just like plenty of foods coming from the Mediterranean and the Middle-East. Most historians agree filo dough has its roots in the Byzantine period, and many historical documents spanning many regions such as medieval Turkey and Persia, mention this flaky pastry and their respective unique recipes, making it hard to find the first people to come up with it. Later on, in the Ottoman Empire, up until the First World War, all upper class kitchens in Istanbul always employed two filo bakers: one to make baklavas, the other to make boreks. Some versions of this pastry made their way into Eastern and Central Europe in the form of the strudel pastry most of us know and love, as well into North Africa which helped invent the Moroccan meat pie dish bisteeya and hand-held briouats.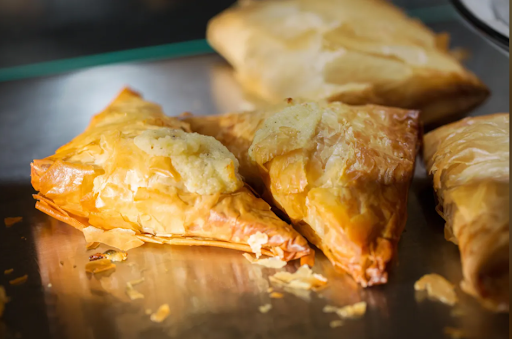 Health benefits
Filo can serve as a healthier substitute for puff and shortcrust pastry. Very little fat is included in the dough. The only extra fat is added when assembling the filo sheets with butter or oil, therefore the cook can decide on the quantity and type of fat used. You'll find a much lower calorie count in a serving of filo pastry compared to other kinds. Also, by using filo pastry, any kind of pastry dish, from quiches to beef Wellington to chocolate tarts can be made lighter with the use of this special type of dough. Filo also makes a great substitute for some exotic pastries such as samosas and empanadas. On top of all this, the dough itself is vegan, and therefore can be used as a vegan substitute in recipes.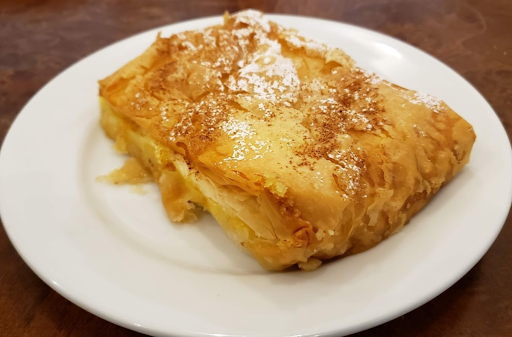 Filo desserts
In terms of filo pastries, there are a myriad of choices. Mediterranean bakeries usually offer a wide variety of fresh-baked treats made with this kind of dough. Let's see what different kinds of desserts there are:
There is, of course, the

baklava

. It is a layered pastry made with filo, filled with chopped nuts and sweetened with honey or syrup. It is a favorite in Turkish, Greek, and northern African cuisine. As well as the classic recipe, you can sometimes find creative variations, such as rolled or chocolate-glazed baklavas.

Bougatsas

are a typical Greek breakfast pastry. They consist of crispy layers of golden buttery filo filled with cheese or custard, made with milk and semolina. 

An old favorite, the

strudel

, can be made with puff pastry or with filo. It depends on whether one likes it puffy and soft, or thin and crispy. Either way, the decadent apple filling is sure to delight your taste buds and accompany a nice pot of tea. 

Since filo is a versatile kind of dough, possibilities are endless! You can use it to make any kind of pastry, such as tartlets or cigars, and with the filling of your choice, whether as an appetizer, a side-dish or a dessert. 
Also, why not combine a Greek dessert with a frappé coffee, a drink which Dessert Advisor has written about extensively in a previous blog. We hope this blog has made you crave the signature crispy, flaky texture of filo pastries! To find desserts featuring filo dough near you, Dessert Advisor has you covered.