Pear Desserts are Upon us!
2021-08-17 ◆ 2
minutes read
With a month of summer left, it is almost time to head to your favorite orchard to pick fresh, ripe fruits, and to start looking for pear desserts. Apples have always been the main attraction, as well as berries, but have you considered going for pears too? These tasty fruits have a sweet, yet soft taste, and are the perfect summer snack. Moreover, they can be used to make fantastic desserts! Their versatile taste can be used in cakes, tarts and pastries. Anyone can find something to their liking. Since now is the best time for this iconic fruit, let's see what kinds of pear desserts bakeries are cooking up these days!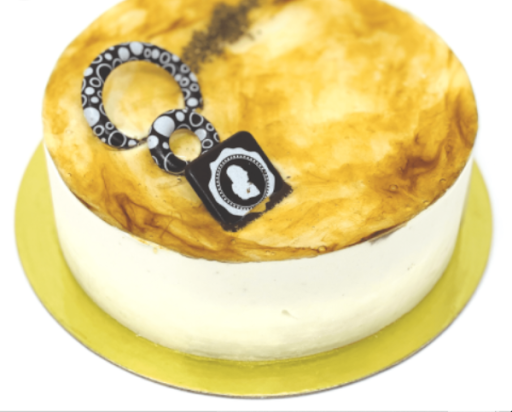 First up, let's have a look at pear cakes. Montreal's Boulangerie Le Marquis has created a light mousse cake with chocolate and pear flavour, perfect for summer days. It perfectly compliments afternoon coffees and teas. Also, if you're looking for a light dessert after dinner to accompany a digestif, this is the perfect pick. Some Costco locations offer a decadent pear and ricotta panettone, a cake with soft yeast dough, filled with candied pears and ricotta cream, flavored with rum and hazelnuts. It's sure to make a lasting impression on your tastebuds. Similarly, the Italian specialty market Magasin Berchicci has their own artisanal pear and chocolate panettone, with extra dark chocolate chips and candied pears in the dough, covered with handmade Piedmont hazelnut icing.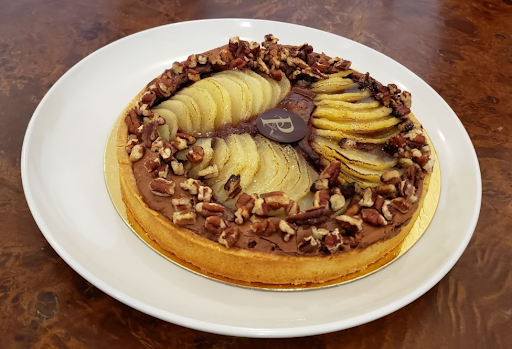 Now, it's safe to say that pies and crumbles are the area where pears really shine. A plethora of options with the sweet taste of pears is available at pastry shops. At Première Moisson, a pastry shop with locations all over Quebec, one can find a beautiful chocolate and pear pie, full of pear slices and topped with walnuts. They also offer choco-hazelnut tarts with pear and almonds, a rich dessert with a sweet pastry crust. If you're in the mood for a bite-sized treat, you can pick up a small chocolate and pear clafoutis at Mamie Clafoutis in Ottawa, Montreal and Laval. It has a spongy texture, a rich chocolate coulis and slices of pear. In Toronto, the charming Douce France bakery makes award-winning tarts with thin pure-butter puff pastry, including one with almond, chocolate and pear. They also serve small tartlets filled with pear and frangipane, best served warmed up for the smooth, melt-in-your-mouth feeling. At Asphalt Cookie Company in Prince Albert, Saskatchewan, you can find a hearty and rustic pear and sour cherry tart, chock-full of fruit slices. If you're in the mood for a classic slice of pie, you can find a French pear tart with slices of pear and frangipane at Les Co'pains D'abord as well as an almond and pear pie at Presse Café. Finally, for those keeping a vegan diet, the aforementioned Boulangerie Le Marquis bakes a beautiful vegan pear, pistachio and almond tart.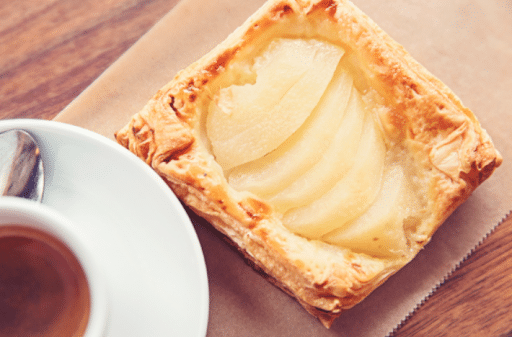 Pears, naturally, also make great fillings in pastries. Le Pain dans les Voiles, a bakery from Quebec, makes a beautiful chocolate-pear pastry with a special heart-shaped pear slice filling. It is sure to get your heart racing! Also, in Vancouver, Finch's Tea House bakes a delicious pear and walnut muffin, perfect for afternoon tea time. You can also find a pear-almond pastry at Richmond Hill's WOW Patisserie, with nice cream toppings.
By and large, pear desserts make for wonderful summer treats and come in many different forms. You will be surprised that this often-overlooked fruit might be part of your next favorite dessert! To browse all kinds of pear desserts near you, Dessert Advisor has you covered.