Cherry Pie: Enjoy the Cherry Blossom Moment
2023-05-25 ◆ 4
minutes read
Cherry pie is more than just a dessert – it's a beloved symbol of gatherings, celebrations, and friendship, a timeless treat that will always hold a special place in our hearts. We owe that partly to the magic of cherries, or better yet to the cherry blossom, and partly to the homey feeling of pies passed down through generations. Together, they represent a connection to our past and a celebration of the simple pleasure moments.
In this blog post, we will delve into the delicious world of the pie, explore its different variations, and see what makes them special. But that's not all – we'll also dive into the fascinating blossoms, their significance throughout history, and why they continue to inspire people around the world.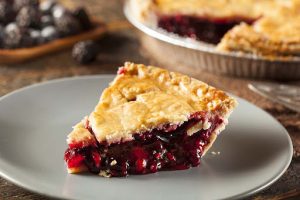 Cherry Pie Variations You Need to Try
Cherry pie is mostly associated with Europe and North America, frequently served on Canada Day and America's Independence Day, as the cherry harvest in midsummer coincides with these holidays. The pie is commonly decorated with ornate pastry patterns and is often served with whipped cream or vanilla ice cream. 
It is traditionally baked with sour cherries instead of sweet cherries because it would translate to a sharper taste, and it would be easier to control the sweetness after all, with Morello cherries being one of the most common types used among others, such as the black cherry.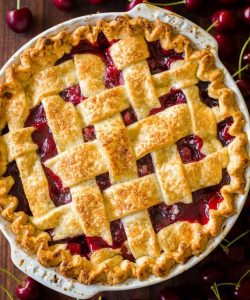 The classic version, decorated with ornate pastry patterns (
Natasha's Kitchen
)
Classic Version:
The classic version is the most common variation that can be prepared with fresh or canned cherries and a thin, crispy, traditional pie crust.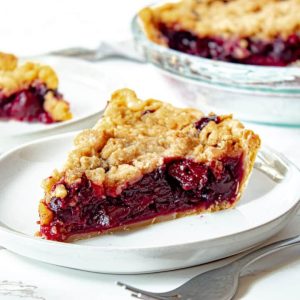 Cherry crumble pie with fresh cherries and a scoop of ice cream (
Chenée Today
)
Cherry Crumble Pie:
This version has a traditional pie crust at the bottom. What makes it special is a buttery streusel topping made from flour, sugar, and butter which gives it a delicious crumbly texture.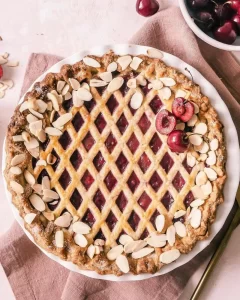 Cherry almond pie with roasted almond topping (
Feedfeed
)
Cherry Almond Pie:
This one features a delectable blend of almond extract in the filling and occasionally chopped almonds in the crust or toasted almonds on the topping, creating a distinct nutty flavour. It is a delightful spin on traditional recipes with an enhanced almond flavour. 

Cherry-blueberry pie (
Pillsbury
)
Cherry Berry Pie: 
Cherry berry pie creates a delectable medley of flavours by combining cherries with other berries like raspberries or blueberries. It can be served slightly warm and enjoyed either plain or with a dollop of creamy vanilla ice cream on top.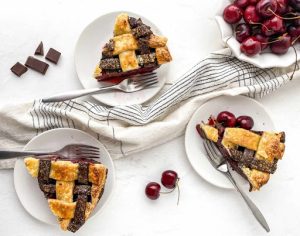 Three slices of the beautiful chocolate version (
Live to sweet
)
Cherry Chocolate Pie:
The chocolate cherry variant is the ultimate sweet and decadent one! The heavenly combination of rich chocolate crust and creamy, tangy filling bursting with tart cherries and chocolate chips is an irresistible treat. The pie's bottom is layered with chocolate ganache or melted chocolate chips before being filled with fresh cherries and baked to perfection. 

The combination of a creamy cheesecake and a delicious pie (
my recipes
)
Cherry Cream Cheese Pie:
This one here is an insanely delicious and easy-to-make dessert, made from graham cracker crust and a mixture of cream cheese, sugar, lemon juice, condensed milk, and vanilla, topped with a layer of cherry filling. It is perfect for any holiday or special occasion, giving you the best of both worlds. 
Cherry Blossom – Sakura
The magic of cherry pie is probably rooted in the aura that surrounds the cherry tree. The tree has an enchanting presence in many cultures, and perhaps it is the very presence that infuses the pie with an extra layer of allure, creating a culinary masterpiece that delights our taste buds and takes us to a realm in which bombs can be turned into blossoms (the story follows).

Cherry blossoms, Hanami festival at Meguro River, Japan (
JRPass
)
Symbolism and the Concept of Mono No Aware
With its delicate blossoms, the cherry tree holds a symbolic significance around the world, enveloping magical feelings, mystery, and myth. Ancient mythology depicts the fruit as the elixir granting immortality to the Gods. Chinese legends associate the Phoenix with slumbering upon a bed of cherry blossom, blessing it with everlasting life. In Buddhist tales, it embodies fertility and femininity, providing support to the mother of Buddha during childbirth. 
Revered throughout Japan, the tree embodies concepts of impermanence, revival, and new beginnings. The fleeting nature of cherry flowering for only about two weeks once a year and adorning their surroundings with gentle, pale petals has instilled an appreciation for the transient beauty of life and become a reminder to treasure the moments shared with loved ones within Japanese culture.
Cherry blossoms, known as "Sakura" in Japan, serve as a real-life embodiment of an untranslatable concept called "mono no aware," among many other associations. Mono no aware is an awareness, a bittersweet realization that everything in existence, including youth, romance, and the changing of seasons, is both beautiful and temporary, not to be mourned but appreciated in their impermanence, as that is where their beauty comes from. 
The Japanese people have demonstrated their profound understanding of this concept and its application across various facets of modern life, including war and peace.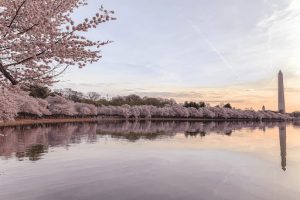 Cherry blossoms in Washington, D.C. (
Ashlea Paige
)
From Japan, With Love
On January 6, 1910, a gift of 2,000 ornamental cherry trees from Tokyo's mayor arrived in Washington, D.C., United States. Unfortunately, those trees had to be destroyed due to infestation. But in a remarkable gesture of friendship, Japan sent another shipment with 3,020 trees to the United States in 1912. 
Two of those were planted by the first lady of the United States and the wife of the Japanese ambassador on the northern bank of the Potomac Tidal Basin on March 7th of the same year, which are still standing to this date. The rest of the trees were planted from 1913 to 1920 around the Tidal Basin and East Potomac Park. 
Despite the challenges of World War II and the profound impact of events like Pearl Harbour and Hiroshima, the gift was renewed with an additional 3,800 trees in 1965. The enduring significance of this symbolic gesture serves as a poignant reminder to let go of past grievances and embrace a future filled with goodwill and understanding.
Every year, Washington D.C. celebrates the arrival of spring and the renewal of life through the vibrant National Cherry Blossom Festival, a tribute to the ethereal beauty of cherry blooming and a moving reminder of the temporary nature of life's precious moments. The festival also signifies the enduring friendship between the two nations.
To Wrap Up
Imagine the heavenly scent of a freshly-baked pie wafting through the air, filling your senses with its sweet aroma. The golden brown, flaky crust encases juicy cherries, perfectly cooked to a rich crimson hue. Picture yourself cutting into the pie: the filling spills out, glistening in the light. The texture is just right, not too thick nor too runny. As you take the first bite, the cherry flavour explodes in your mouth, and a few minutes later, it's all gone.
Let the taste of cherry pie and the enchantment of the tree remind us to embrace the here and now, relish the magic of each passing moment, and cherish the memories we create along the way. Just like the beauty of the cherry blossom and the pleasure of this delightful dessert, life's moments of joy are transient. Yet, it is precisely this momentary nature that lends them their extraordinary significance.